Want to Spruce Up Your Kitchen or Bath?
With 30+ Years of experience let us build your dream house for an affordable price.
Our Exquisite
Kitchen Backsplash Tile

In A Range Of Beautiful Designs
Our unique and colorful range of kitchen backsplash tiles will enhance your kitchen look. At Columbus Cabinet City, our backsplashes are made to fit any kitchen style and are functional and stylish. You can add a touch of style while protecting your walls from damage, splash, and moisture.
Not only are our backsplash tiles for the kitchen durable, but they are also easy to install and maintain. Backsplashes add a layer of protection that prevents costly moisture damage. You can pick a style to mix and match for a contrasting color palette or create a uniform color scheme. Whatever your style choice, our backsplashes are a great addition to your kitchen.
Create An Elegant Kitchen With Our Kitchen Backsplash Tile
Are you tired of your plain walls and want to enhance your working space? Our backsplash for kitchen will be the perfect addition to your cooking area. Not only are they functional, durable, and will protect your wall from damage and moisture, but they will also transform your bland walls into something to look at.
Columbus Cabinet City is the one-stop shop for all kitchen wall tile needs. Whether you want a modern, traditional, minimalist, or contemporary kitchen, our vast collection of styles, materials, and colors will give you a look like no other.
Whether you accidentally splash tomato sauce while cooking or anything else, our porcelain tile backsplash is easy to clean. You only need dishwashing soap, a sponge, and a clean cloth. You can easily clean any mess with a sponge; just wipe it with a clean cloth. Being stain-resistant, our backsplashes bring you no hassle cleaning.
Enhances Your Kitchen's Decor
With our wide range of colors, styles, and sizes just a click away, you can enhance your kitchen's decor by installing kitchen backsplash tiles. For example, if you have vibrant white countertops and cabinets, you can spice up your space by adding a backsplash in a contrasting color.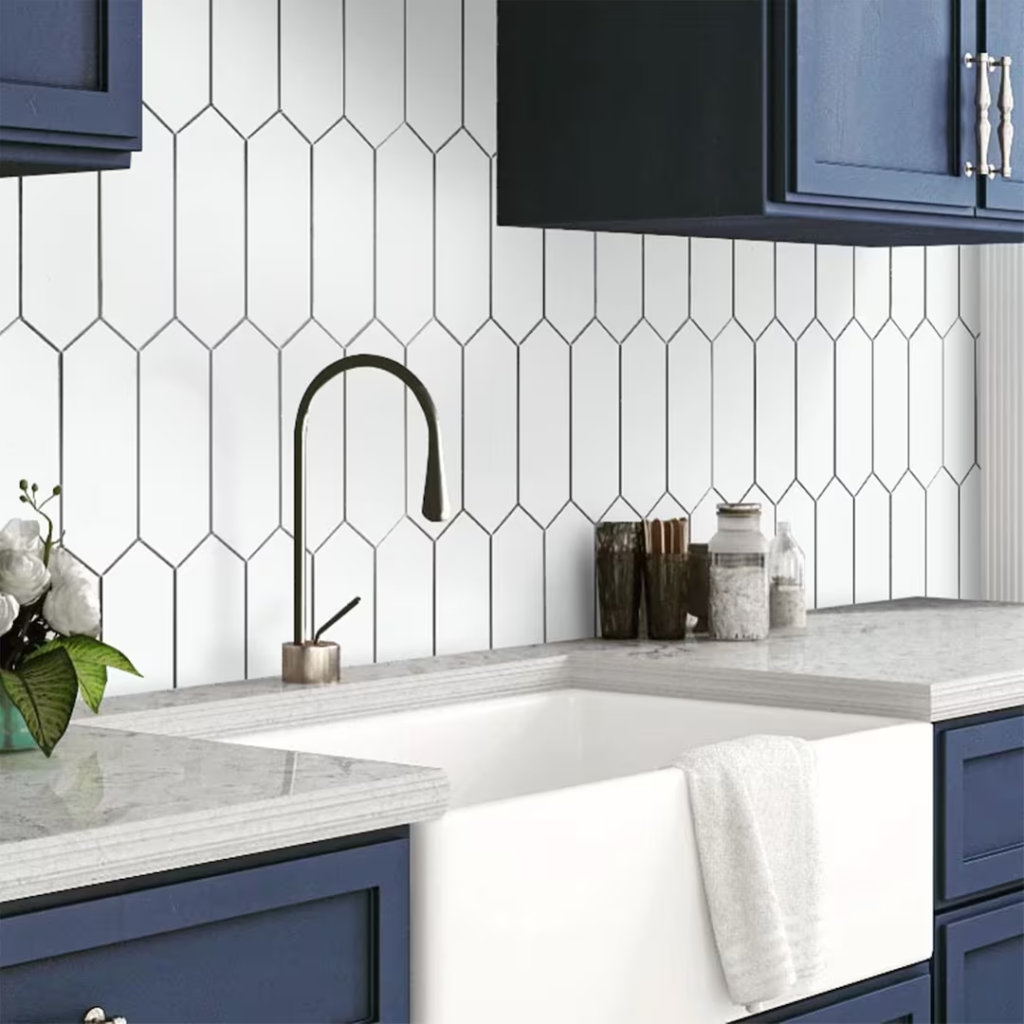 Increase Your Home's Resale Value
The Columbus Cabinet City's tile for kitchen backsplash is the icing on the cake or the glue that holds your kitchen together. Our backsplash enhances your kitchen to the next level, increasing its overall look and resale value. This stylish wall guard is long-lasting and will ensure you enjoy your cooking space.
Protect Your Wall Paint From Moisture Damage
Our backsplash for kitchen ensures your space has minimal chance of water damage. Various plumbing runs through your home; even the smallest amount of water or moisture leads to thousands of dollars in water damage. Our backsplash adds layer protection that prevents costly water damage. 
Perfect For Homeowners That Are Environmentally-conscious
If you want to impact the environment positively, then our kitchen backsplash tiles are perfect as a material. Tiles come from materials that are easy to mine and manufacture, ensuring minimal fuel consumption. Our tile backsplashes also have recycled contents, reducing their environmental impact.
Presenting our best works so far to draw inspiration from – here's the Inspiration Gallery at a glance.
Buying Guide: Backsplashes