Cleaning your wooden cabinets means having a clean home. But did you know how to clean and keep them properly so that they can last for longer – up to 50+ years? 
Kitchen cabinets, especially the wooden cabinets get dirty as fast as you could think. They have to suffer a lot of wear and tear. Wooden cabinets take a beating every day. Grease, food particles, and dust can build up on the cabinets and be difficult to remove. Over time,  buildup makes your cabinet look dull. Therefore, it is a good idea to clean your cabinets often. 
Baking soda can be used as a natural cleaner to keep the varnish from coming off during deep cleaning. Polish your wooden cabinets after a thorough cleaning to bring them back to life. However, this is the multipart process that will help you clean your wooden cabinets. Let's get into it. 
Table of content
Daily clean with vinegar solution
Deep clean with a mixture of vinegar and salt
Utilize oil soap wood cleaner
Use baking soda for thick stains
Consider commercial cleaner: Goo Gone
Apply mineral cleaners
Utilize a steam cleaner to sanitize your cabinets

Daily clean with vinegar solution
Vinegar is the go-to natural cleaner when faced with greasy wooden cabinets. For this, mix a 50/50 solution of vinegar and warm water and put it into a spray bottle. Mist on the wooden surface, let sit for a minute or two and then wipe clean with a soft cloth. 
Deep clean with a mixture of vinegar and salt
Make a paste of vinegar and salt. Use a toothbrush to apply the paste and lightly rub over the stain. Make sure not to scrub too hard or use steel wool, as it will scratch the wood. To remove the paste, rinse it off with clean water and dry it with a clean towel. This is an effective way to clean your wooden cabinets. 
If the substance still refuses to budge, apply the paste and let it soak in for 15 minutes before rinsing it off. Don't worry, baking soda doesn't harm the wood until you scrub it with harsh material such as steel wool. 
Utilize oil soap wood cleaner
Wood surfaces do not suffer damage from oil soap, which removes caked-on grease and grime. You can use it for deep cleaning your cabinets since it is stronger than vinegar or a simple dish soap solution. Apply the oil soap to your cabinets with a soft cloth and rub it in a circular motion. 
Use baking soda for thick stains
Most of the time when food spills are left unattended for a long time, it becomes hardened and quite tough to remove. Using baking soda as an abrasive will remove dried substances from your wood without damaging it. Create a thick paste by mixing baking soda with enough water. Dip a cloth in the paste and use it to remove the substance from the surface.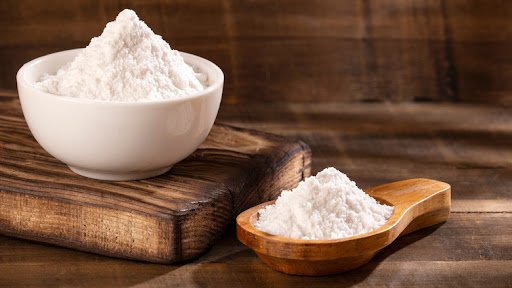 Consider commercial cleaner: Goo Gone
If you are looking for a commercial product to clean those cabinets, you'll never beat the effectiveness of Goo Gone as it is an ideal choice and recommendation for wooden cabinets.  It is undoubtedly a great material to clean your wooden cabinet. All you have to do is wipe it on with a soft cloth, let it sit for a minute, and wipe it off with another clean cloth.
However, using a warm damp micro cloth then using it can quickly wipe away the grease layer. This should remove the sticky residue without damaging the wood or stripping the finish or paint.  
Utilize mineral spirits for a deep clean
Mineral spirits are versatile products with several uses. It makes a handy degreaser; useful for removing cabinet grease and hard-baked oil dirt. Use a clean dry cloth to apply an enough amount of mineral spirits. If you are going to use cleaners, make sure you dilute them in water and don't spray them directly on the wood. However,  make sure not to use too much by soaking the wood.
Utilize a steam cleaner to sanitize your cabinets
Steam cleaners are very popular when it comes to sanitizing hardwood and for good reason. They work wonders with cabinet cleaning as they will remove any leftover residue from the last step and kill off any microorganisms that may have been growing there beforehand. However, for the more powerful blast of cleaning, you can use vinegar instead of water. 
Conclusion
When it comes to cleaning wooden cabinets, it might require more maintenance and care than other materials. As a result of these steps, your wooden cabinets will look good and avoid costly repairs in the future. Following these tips will ensure that your cabinets last for years to come.